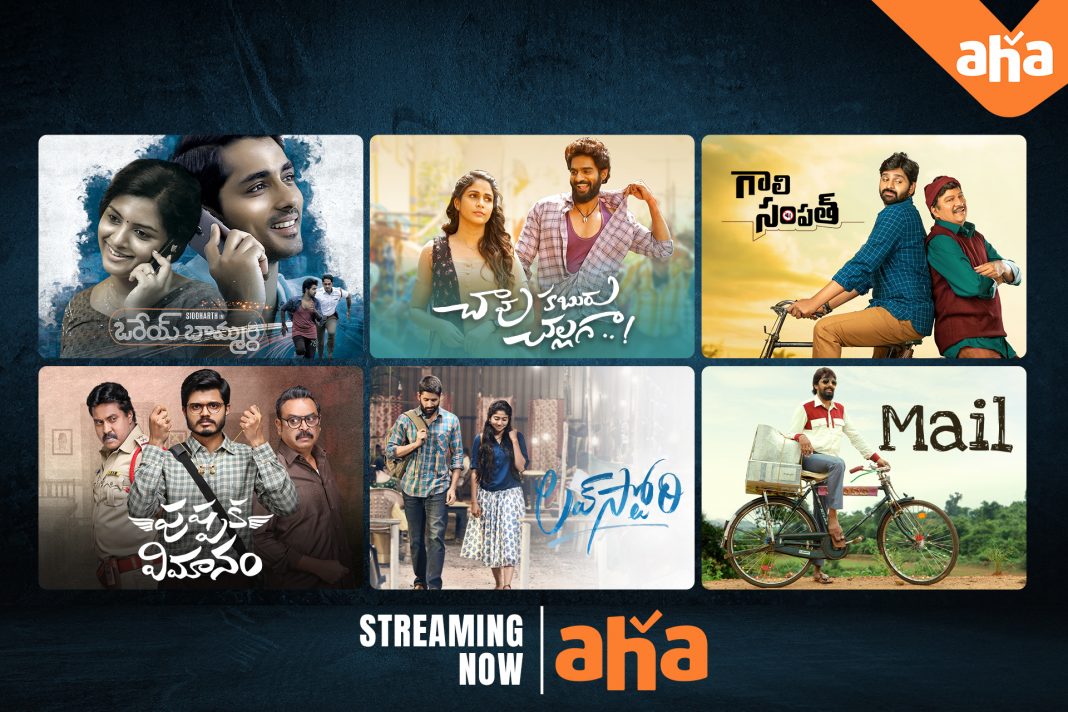 Sankranti is not just a time for new beginnings but also blockbuster movies. It is the perfect holiday to watch the latest Telugu movies with your friends and family.
If you want to add some entertainment on this auspicious day, Aha is the right place for you. We have curated a list of top Sankranti Telugu movies. From comedy to romance to drama, this list has something that can match everyone's taste.
Take a look at some of the binge-worthy movies for this holiday.
Orey Baammardhi
Starring Siddharth, G.V. Prakash Kumar, and Lijomol Jose Rajashekar, Orey Baammardhi is about a traffic police officer who arrests a bike racer for breaking the rules. As the story progresses, they begin to hate each other.
Eventually, the police officer finds you that the girl he wants to marry is the bike racer's sibling. So, will things take a turn for the worse or better between these men? Does the police officer marry the bike racer's sister? Watch this movie to find out.
Chaavu Kaburu Challaga
This is for the ones who are fans of romance with a hint of drama. Popular stars like Kartikeya Gummakonda, Lavanya Tripathi, and Aamani are a part of this movie.
Imagine what might happen when a mortuary van driver falls in love on seeing a widow paying her last tributes to her deceased husband? Will this 'love at first sight' turn into a 'forever'? Watch Chaavu Kaburu Challaga to find out.
Gaali Sampath
If you are a fan of Rajendra Prasad, Sree Vishnu, and Lovely Singh, you shouldn't miss Gaali Sampath. This is an emotional story about a father-son duo and how their life changes after a dramatic turn of events. Watch this 2-hour action film to discover how Gaali Sampath survives and restores his relationship with his son.
Mail
Set in 2005, Mail is a story about Ravi, an innocent student excited to learn about computers. Soon, he finds out there's a new internet center in his village. Keen to know more, he requests Hybath to teach him how to operate a computer. Ravi is forced to borrow money from Shivanna, a local moneylender short on funds.
He receives an email of a lottery worth ₹2 crores during his learning process. What will be Ravi's next move? Will this 18-year-old fall prey to this email? Watch this drama and find out how these unexpected events unfurl.
Priyuralu Pilichindi
Starring the very-famous Aishwarya Rai Bacchan, Tabu, and Mammootty, Priyuralu Pilichindi is a tale about two sisters falling in love with Manohar and Srikanth, respectively. Sadly, these sisters are gloom stricken when they find out Srikanth and Manohar have completely different plans.
Pushpaka Vimanam
Pushpaka Vimanam is a dark comedy thriller starring Anand Deverakonda and Sunil. Watch a simple teacher go round and round in his quest to find a wife. This movie reflects today's arranged marriages, societal pressures, moral policing, and finding love.
Love Story
Launched in 2021, Love Story is a romantic telugu movie about a Zumba trainee falling in love with a conservative upper cast family. Watch this movie to find out Naga Chaitanya and Sai Pallavi face several problems to finally start a life together.
These are our Sankranthi Telugu movies 2022 picks for you. We hope you If you are looking for more Telugu movies to watch with your family, do not forget to browse through our wide collection of 'Family Favorites.'
Our platform also offers a range of web series in Telugu. So, sign up with Aha to enjoy the best Telugu movies – telugu and tamil comedy films and series online today!